FREE DELIVERY
When you spend over £100*
Salomon X Pro 80
SAL-1002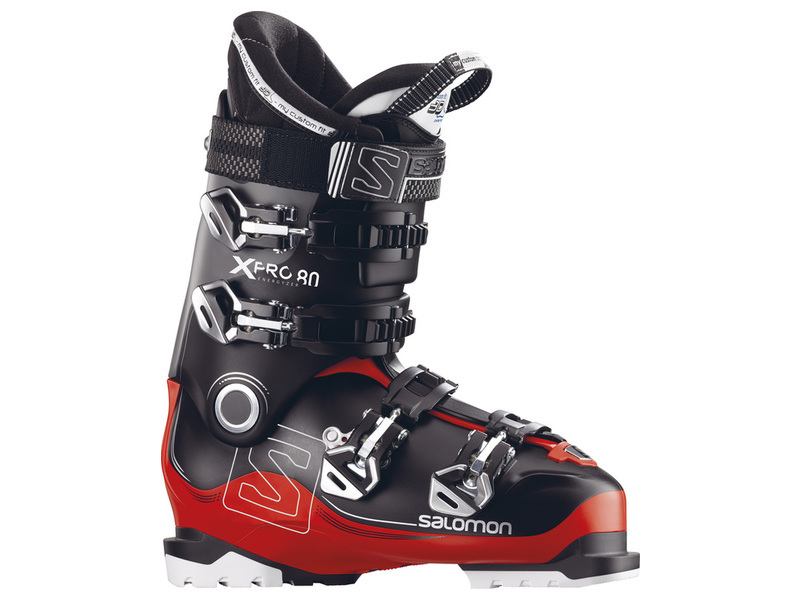 The Salomon X Pro 80 ski boots take the character of performance ski boots and put them in a forgiving and easy to use package. If you're a committed beginner or a developing intermediate, then this is the perfect boot to support you on the journey toward all mountain performance skiing.

Rigidity in the shell is focussed into the key power zones to allow to direct energy into the binding and ski. This allows the boot to still flex where needed adding both comfort and making it easier to turn. This construction is known as Twin Frame and it results in price on snow feedback for the skier.

The X Pro 80 ski boots have a medium last of 100mm and the shell has been shaped to offer good out of the box fit for skiers with medium width feet. This fit can be dialled in further for extra comfort by heat fitting the CustomFit 3D Sport boot liner. 30% of this liner is made of heat mouldable foam which forms around the foot to give extra support.

With a flex of 80, the X Pro 80 ski boots have a soft and forgiving flex. Due to this they are best suited for lighter skiers and those still developing. If you prefer skiing in a relaxed way or are still building up to high speed turns, then the 80 flex will be supportive and is an excellent choice.
Features:
Twinframe - A construction where rigidity is carefully added to ensure efficient energy transfer but retain a forgiving flex and comfort
My CustomFit 3D Sport Liner - 30% heat mouldable liner. A pre shaped ankle zone gives extra support, and anti-packing high density foam keeps the fit consistent
Hypersoft Footprint - A soft footbed which adds comfort, support, and warmth
Articulated Overlap - Allows easy exit and entry to the boot
35mm Cuff Strap - Creates a firm cuff closure for maximum power transfer
Binding Compatibility - Compatible with all standard alpine bindings under ISO 5355 and bindings marked as MNC (Multi-norm compatible)
Flex: 80 - Soft
Last Width: 100 mm
Liner: Heat Mouldable Liner
Shell: Non-Mouldable PU/PA Shell
Walk Mode: No
Mountain Profile: All Mountain